Proud Andersen Windows Dealer
Newfane Lumber is the place where you can find quality windows for any budget. Special order Andersen Windows are available from their full line of products. With so many styles and options available to choose from, we're sure we will be able to help you find something to fit the style of your home. There are many benefits to Andersen Windows that can help you save money in the long run. Andersen Windows are some of the most energy-efficient on the planet with the ability to reduce costs on your monthly energy bills and improve the comfort of your home, regardless of the season. We know drafty windows or windows that are not properly insulated can increase your home's energy use each year. This leads to inflated energy bills and overworked HVAC systems. In addition, Andersen Windows are environmentally friendly and will reduce your home's overall carbon footprint and lengthen the lifespan of your energy systems. At Newfane Lumber Company, we trust Andersen because they offer products made with our exclusive composite materials that are composed of 40% reclaimed wood fiber by weight. This material is twice as strong as vinyl and can withstand all the weather Buffalo, NY is known for.
We are proud to serve Buffalo, Niagara Falls, Lockport, Williamsville, Amherst, Clarence, Wheatfield, and the greater WNY area. Don't hesitate to call our team if you have any questions.
New construction or replacement vinyl windows are also available to order from companies like Silverline and Smarter Windows. Vinyl windows can enhance the look of your home while providing energy-efficient performance at a less expensive price point.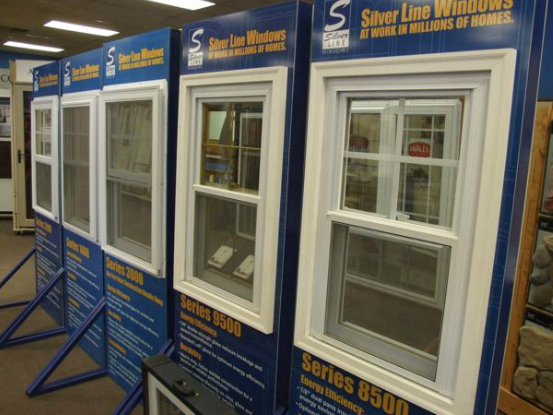 Benefits of New Window Installation
Whether it is your home, office, or commercial space, new window installation comes with many benefits, including:
• Increased Property Value – New window installation is a property update that could give you a great return on your investment. Prospective buyers may turn away if they know windows need to be replaced.
• Enhanced Security – Windows that are painted shut or don't easily open are a safety hazard. New window installation can benefit the safety of the occupants in the event of a fire. In addition, new windows have enhanced security options to give property owners peace of mind.
• Reduced Amount of Dust & Allergens – Due to advancements in the industry, modern windows are now available with between-the-glass blinds and shades. The glass protects your blinds or shades from dust, harboring fewer indoor allergens, helping to keep your property cleaner. In addition, there are no cords that compromise the safety of your children and pets.
• Improved Comfort – New window installation can help reduce drafts and improve the insulation of your property. New windows are created with multiple panes to reduce heat transfer and the effects of the UV rays that enter your property. The seals are tight and help to prevent air leaks. This means the temperature indoors is more likely to stay at a consistent, comfortable level.
• Noise Reduction – If your home or business is located in a busy, noisy area, new window installation can help to reduce the sounds of the outside. Triple-pane glass and extra insulating frames can help lessen the noise pollution that disrupts your day-to-day activities.
• Improved Energy-Efficiency – New windows have improved insulation, which helps to keep your property at a consistent temperature. This means that your HVAC units will not have to work as hard to compensate for the lost air. By installing more energy-efficient options, you can save on your utility costs and protect the environment while enhancing the comfort in your home or business.
• Boost Curb Appeal – New windows can drastically improve the appearance of your home or business, both inside and out. New wood, fiberglass, and vinyl windows are available in a variety of interior and exterior finishes to coordinate or change the look and style of your property.
How to Prepare Your Home for New Windows
Depending on how many windows you are getting installed, you should expect the project to last a day or two. If this is your first time getting new windows installed on your home, the project can seem daunting. Never fear; our skilled professionals aim to make the window installation process as smooth and efficient as possible! There are a few things you as a homeowner can do before your new windows arrive to streamline the process and clean-up, including:
• Clear the Way – To ensure the installers don't accidentally damage anything and they have the clear access they need to the project area, move everything you can around the windows and their pathway into your home. This includes furniture, plants, area rugs, and other items. It even includes any outdoor garden decor or furniture items.
• Remove Treatments & Wall Decor – In addition to clearing items and furniture, be sure to remove any window treatments or nearby wall decor. This includes any curtains, sheers, or blinds. Pay special attention to the hardware, as you will need those pieces if you decide to reinstall your curtain rods or blinds.
• Close Doors & Cover Furniture – Window installation is a messy job since you are literally removing the window and creating a huge hole in the side of your home. Of course, our contractors will lay down drop cloths and make other preparations to minimize the mess, but it doesn't hurt to be proactive yourself. Make sure all nearby doors are shut and furniture is covered from dust and debris.
• Temporarily Move or Store Precious Items – If you have any important or precious items in the room where the windows are being installed, it is best to remove those items and store them elsewhere in your home to ensure they are safe. If the need arises, you could also rent an affordable storage container that could be stored right in your driveway to house your furniture and belongings during the window installation process.
If you have any questions about the window installation process, please don't hesitate to contact us today! Part of a successful project is ensuring you have the information you need to feel confident so we will happily answer any questions you may have at any stage of your window installation service.
Contact Us Today to Get Started on Your Window Installation Project!
If you are planning to install new windows on your property, browse the selection at Newfane Lumber Company! We have an array of styles, colors, and other options to choose from. Contact us today for more information. Our showroom is located in Lockport, NY and we welcome customers from Amherst, Williamsville, Clarence, Wheatfield, Niagara Falls, and the surrounding Buffalo areas.